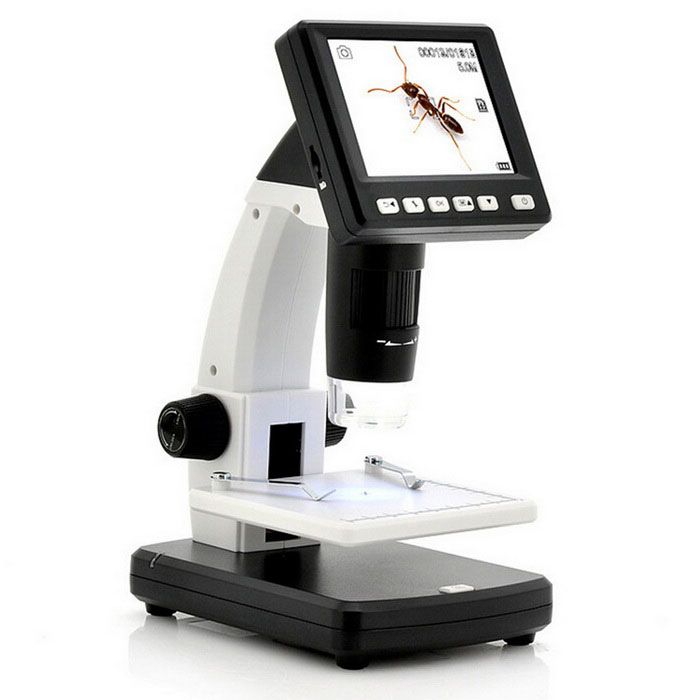 Rechargable Digital Microscope
Stand-alone Digital LCD Microscope
With its built-in 3.5" LCD display, this digital microscope is easy to use and does not need to be connected to a PC, netbook or laptop. Rechargeable Lithium-Ion battery lets you take this microscope anywhere. With 5M pixels CMOS sensor and eight LEDs for illumination, this microscope brings vivid crystal image, allows you to view images up to 500x magnification, take standard photos, record videos, and output on a PC or TV.
This Stand-Alone 3.5-inch LCD Digital Microscope is ideal for applications such as educational research, insect and plant examination, laboratory research, computer parts inspection, textile inspection, printing inspection, jewellery inspection, and collections/coin inspection. The software bundled with the microscope has measurement functions.
Technical Details
Magnification: 10x to 200x, 500x
Optical zoom: 5x to 50x, 125x
Digital zoom: up to 4x
LCD Display: 3.5"
Image Sensor: 5M Pixels
Easily captures microscopic pictures and videos
Photo Resolution: 5MP, 3MP, 1.3MP, 640 x 480 pixels (JPG file)
Focus Range: Manual focus from 10mm to 50mm
TV output: Available (to any monitor with TV in)
Card Slot: Support MicroSD Card slot up to 32GB (Card is not included)
Rechargeable lithium battery (recharged by AC charger or USB) provides up to 3 hours standalone work.
Ideal for:
Investigating fingerprints
Photographing a tooth and then soaking it in coke monitoring results over a period of time
Investigating the weave of different fabrics for how waterproof they are
Observing solids that behave as liquids (fine powders)
Observing moulds and yeast budding ….. And much more