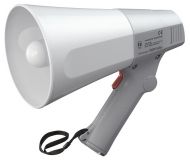 TOA Compact Handlheld Megaphone
Toa's ER-520 compact handheld power megaphone feature built-in microphone, trigger switch. Comes with or without siren. The ER-520 megaphone is ideal for applications from schools, movie locations to fires and emergencies.
10 watt output and a battery life of approx 10hrs. In addition the ER-520 features a special antibacterial treatment on the microphone for protection from germs.
Specifications:
Power Output: 10W Max.
8 AA batteries (8 hrs) (Batteries not Included)
Range: 250m (speech)
Anti-bacterial treatment for all models (mouthpiece/microphone and handle)
High durability ABS or ASA resin construction
Compact and lightweight
Wide frequency range for enhanced audio quality
Neodymium magnets and Polyimide speaker diaphragms
Three year warranty
Can come standard or with Siren