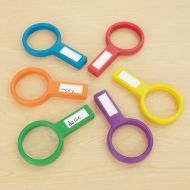 Talking Magnifier 6 Pack
A magnifier that will not only magnify but children can also record their observations for a maximum of 30 seconds!!!
ONE SET ONLY AVAILABLE
This NEW RECORDABLE, colourful magnifier allows children to develop essential skills in a fun way.

These recordable magnifiers are perfect for getting children focussing on their observations without the pressures of writing!

A wipeable insert on the front allows the child to write their name, allowing the teacher to listen to the recording.

Easy to handle, lightweight with the added advantage of children being able to carry them on a lanyard.

Pack contains 6 brightly coloured magnifiers and 10 write on cards per magnifier.

Each magnifier takes 2 x AAA batteries (Included)

Size: Overall length 22cm, dual lens 2 and 4 x magnification 9cm diam.