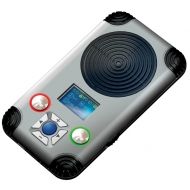 Talk Tracker
Keep track of how children are progressing with their discussions with our Talk-Tracker.
Simple to use, this great resource can be placed within a group of children in order to record their conversations.
With no other way to assess children's speech development other than physically being with the child, this tool is a great classroom resource, to free up the teacher and also capture children talking more naturally.
Playback on the device or simply download via USB.
Inbuilt lithium battery charged through USB.
Record up to 4 hours of sound.
Use in role play, in debating and for modern foreign languages to listen to the language children are using.