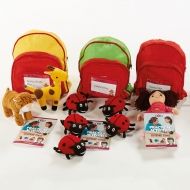 Rhyme Time Bags - set of 5
ONLY 3 SETS AVAILABLE
Parents and children can participate with these Rhyme Time resources, involving the parent in the child's development.
These take home bags have been designed by leading specialist Alice Sharp with a view to improving partnerships with parents.
Each bag is filled with different resources and activity notes to improve learning and development in several areas:
Giraffe Spots, Tiger Stripes -Use the animals the act out the rhymes provided and play games
Ladybird, Ladybird -A great way to introduce early maths into your Rhyme Time play
Eyes, Nose, Cheeky Chin! - This bag includes a doll which is great for popular rhymes such as 'Head, Shoulders, Knees and Toes'
Round and Round the Garden -'Round and round the garden' explore a garden with this bear and encourage language development
Our Little Dog - Children love pets and animals so these Rhyming activities will be great for engagement
You could also try extending the play with further suggestions incorporating everyday objects which can be found in the home setting.
Set of 5 bags to take home complete with practical activities notes for each bag.
For ages 3yrs+.