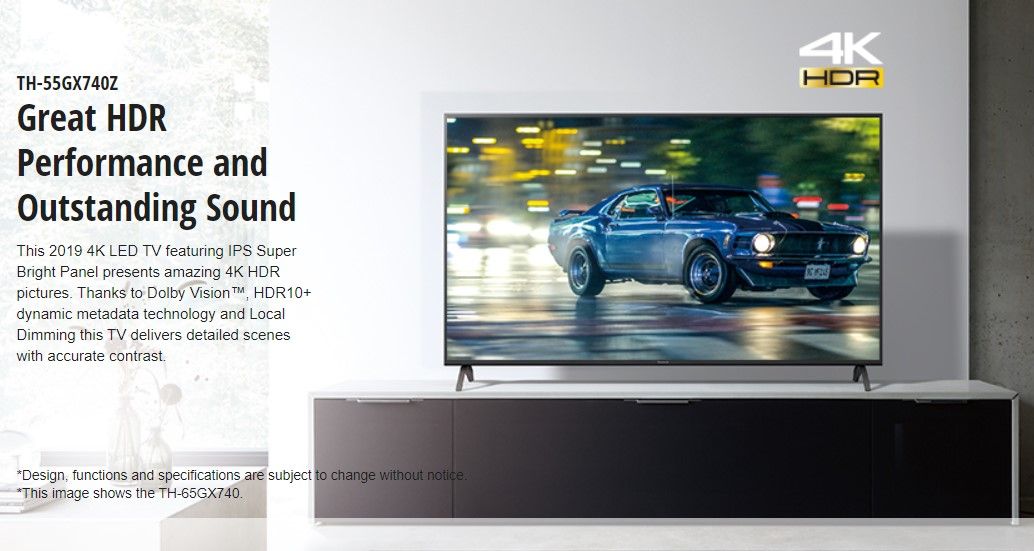 Panasonic 55" LCD Television
4K UHD Smart Television with Freeview UHF and Satellite tuners & On Demand app
NO LONGER AVAILABLE
SEE HERE FOR CURRENT MODEL
** Supplied with a full 3-year commercial warranty for school use **
** CURRENT TV MODELS, SPECIFICATIONS, PRICING AND AVAILABILITY CHANGES CONSTANTLY.
PLEASE CONTACT US DIRECTLY FOR UP TO DATE INFORMATION **
Satellite or UHF, we have you covered
Dual Tuners Built-In

Unlike many other places in the world, New Zealand homes have a distinct mixture of satellite and UHF tuners depending on whereabouts in the country they live. While some other global brands just cover off UHF capable homes with models designed for overseas markets, at Panasonic we have ensured that our TVs are fitted with both tuners, especially for Kiwis.
This 2019 4K LED TV featuring IPS Super Bright Panel presents amazing 4K HDR pictures. Thanks to Dolby Vision™, HDR10+ dynamic metadata technology and Local Dimming this TV delivers detailed scenes with accurate contrast.
---
HCX Processor
Our Best 4K Processing with Special Tuning by a Hollywood Colourist. The HCX Processor represents the pinnacle of Panasonic image processing. Built on colour, black level and brightness know-how learned from our reference-quality plasma TVs and professional broadcast equipment, the system has also been tuned by a Hollywood colourist to deliver picture quality true to the filmmakers' vision.
HDR10+/ Dolby Vision Supported
Our new TVs support playback of both next-generation "Dynamic Metadata" HDR standards: HDR10+ and Dolby VisionTM. Of course, they also support conventional HDR10 and Hybrid Log-Gamma too, so users can enjoy a variety of HDR content.
Dolby Atmos® Supported
An immersive cinematic experience with Dolby Atmos® With new support for state-of-the-art audio formats Dolby Atmos, the sound pours in from all directions, including overhead. Powerful, dynamic sound travels in 3D space to bring you inside an immersive cinematic experience.
Bluetooth Audio Link
Easily Play the Great Sounds of Various Content. The Panasonic Bluetooth Audio Link function connects easily to a wireless audio speaker via Bluetooth® to provide powerful sound with no need for complicated settings. Great for listening to music at high volume with high picture quality. Music content from a smartphone or tablet device can also be played on the TV speakers. And high-volume music can be enjoyed from the TV speakers even in rooms that are not equipped with an audio system.
Easy TV Operation Without a Remote Control
Panasonic TVs give you hands-free operation from an Alexa device or your Google Assistant enabled device. A variety of operations, such as turning the power on or off and changing the channel or volume, can be carried out by your voice without having to use the remote control. It's easy to operate the TV with voice commands when you're busy cooking or getting ready to leave the house.