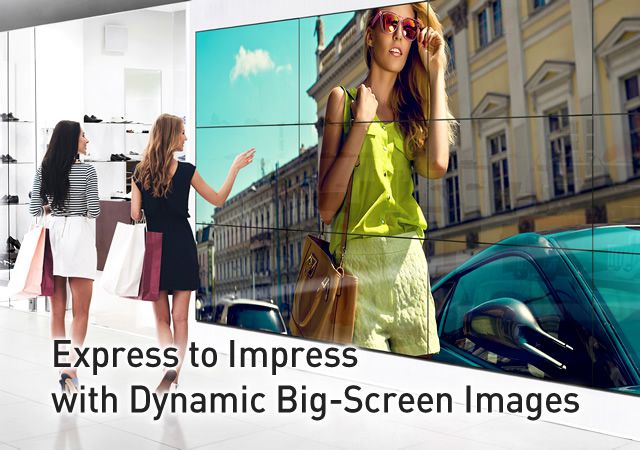 Panasonic 49" LFV8 Series Video Wall Display
Simplified and Seamless Multi-Screen System for Signage, Events, and Surveillance
Panasonic's close relationship with end-users and the resale industries has enabled the development of specialized turnkey video-wall solutions that exceed the demands of professionals by streamlining installation, safeguarding reliability, and enhancing performance around the clock. Serving high-impact images, the LFV8 Series assures high visibility and ease of operation unrivalled by any other brand.
TH-49LFV8

49-inch
450 cd/m²
1300:1
Narrow Bezel for Seamless Video Walls
Ultra-narrow bezels on the LFV8 Series reduce bezel-to-bezel distance to a near-invisible 3.5 mm (0.14"). In larger video-wall installations, screen borders seem to disappear, resulting in truly spectacular large-format images.
* Bezel-to-bezel distance refers to the combined top and bottom (or left and right) bezel-width of adjacent displays in video-wall configuration. The gap between displays is not included. Note that a gap of 0.5 mm (0.02") or more is required when installing multiple displays.
Multi-Screen Configuration for Automatically Synchronized 4K (4 x 1080p) images
Two systems for 4K (3840 x 2160, 30p) output are supported for multi-screen layouts*.
MST (Multi Stream Transport)
MST (Multi Stream Transport) system supports dot-by-dot display of 4K images in 2 x 2 multi- screen configuration.
SST (Single Stream Transport)
SST (Single Stream Transport) system supports enlarged display of 4K images in multi-screen configuration.
* DisplayPort daisy-chain supports up to 25 displays. (Supports up to 8 displays input HDCP signal)
IPS Panel Improves Off-Axis Visibility
High-resolution IPS (In-Plane Switching) panel technology ensures that pictures displayed on screen remain clearly visible even when observed from oblique angles: vital for signage applications as well as in control rooms where clear visibility is necessary at all times.
Wide-Angle Color Accuracy
Panasonic IPS panel preserves true colour accuracy for a wider proportion of the specified 178-degree viewing angle than conventional VA panels.
Note: Graphic is simulated. Visibility depends on environment.
Anti-Glare (AG) Surface Treatment
The AG layer on LCD Video Wall Series displays scatters reflected natural or artificial light, improving visibility. In particular, the AG treatment enhances screen clarity in surveillance stations and public facilities.
TH-49LFV8 features refined Anti-Glare Low-Reflection (AGLR) panel, improving visibility by adding a low-reflection coating over the anti-glare treatment.
Backlight Optimization Improves Contrast
Highly efficient direct-lit LED backlighting with Local Dimming assures high 500,000:1 contrast performance. Backlight brightness is automatically optimized to deepen blacks in dark areas and boost whites in light areas of individual scenes displayed on screen for more realistic and immersive picture quality.
Local Dimming Function
Note: Local Dimming on LFV8 Series is always set.
Efficient 24/7 Reliability in Landscape or Portrait Modes
Durable panel materials and quality components ensure dependable 24-hour operation seven days a week. This makes the Panasonic LCD Video Wall Series ideal for applications where absolute reliability is critical. Further, these products are designed for either landscape or portrait orientation without affecting color, brightness, or operational life. This flexibility allows you to exploit installation space to the fullest potential.
Note: Display of moving images is recommended when panels are in use for long periods to prevent image retention. Note that image burn-in can be gradually rectified with the periodical display of moving images.
Support Color Calibration
Pre-Calibration
Colours are pre-calibrated prior to factory shipment, to minimize colour differences between displays for multi-screen use. This makes it possible to create single images without any visible differences from display to display*.
User Memory Function
The user can store colour adjusted data in the main unit memory. By simply retrieving the stored data, the unit can be re-installed without bothersome calibration*.
* There are cased, however, when the visual adjustments are needed once the video wall installed.
Beautiful multi-screen displays are achieved without uneven colouring.
Multi-Screen System for High-Impact Images in Large Spaces
Multi-Display Function enlarges images to up to 100 times their original size*. It can increase image size using the same zoom ratio in both vertical and horizontal directions to suit 2 x 2, 3 x 3, 4 x 4, 5 x 5, and 10 x 10 video-wall configurations, or can apply different ratios to suit alternative screen layouts. In this way, users can maximize image size according to video-wall size and shape.
Note: A mounting bracket compliant with VESA standards is required for wall-mounting. Some degradation occurs when images are enlarged. Be sure to provide adequate ventilation as operating temperatures can vary according to multi-screen configuration and environment.
Precision Video-Wall Mounting System
Our optional Installation Mount* makes setting up a spectacular video-wall installation comparatively quick and painless. As well as saving time and reducing labour cost, the rigid mount also eliminates potential panel surface alignment inconsistencies with the use of an automatic magnet system. The Panasonic LCD Video Wall Series also features optional cover frames for extra protection against impact.
* For more information:
Video Wall Construction Manual
Inconsistencies in the video wall display can occur when individual panel bezels are not correctly aligned vertically and horizontally, and when panel surfaces are not properly adjusted. Surface alignment control magnets and interlocking mounts ensure precision installation in every axis.
Note: Landscape installation only.
Minimize Downtime and Improve Efficiency
Optional ET-SWA100 Series* Early Warning Software monitors all display devices over the network. Administrators can monitor device status in real-time, view operation history, and receive alerts if abnormalities are detected. Monitoring servers with this software installed can be checked via tablet or notebook PC browser. As well as minimizing downtime, the software reduces unnecessary visits to remote display sites and saves service time and cost.
Early Warning Software (ET-SWA100 Series)
* Part number suffix may differ depending on the license type. Note that some potential device failures cannot be predicted.
Video Wall Manager Software and Auto Display Adjustment Upgrade Kit
Panasonic's free Video Wall Manager software can be used with LCD Video Wall Series displays. With this software, you can calibrate display colour using a colour sensor, adjust display settings, and control and manage data via PC. If the software is upgraded with an optional TY-VUK10 Auto Display Adjustment Upgrade Kit, brightness and colour among multiple displays can be automatically calibrated using a compatible camera (Nikon D5200/D5300/D5500/D5600)*.
* Available only with normal zoom lens: AF-S DX NIKKOR 18-55 mm f/3.5-5.6G VR, AF-S DX NIKKOR 18-140 mm f/3.5-5.6G ED VR, AF-S DX NIKKOR 18-55 mm f/3.5-5.6G VR II, AF-P DX NIKKOR 18-55 mm f/3.5-5.6G VR
Video Wall Manager and Auto Display Adjustment Upgrade Kit
(TY-VUK10)