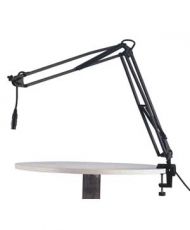 K&M Microphone Desk Arm
Easy running microphone desk arm with 3/8" thread for studios and multi-media workstations; black powder-coated.
Easy to handle. The microphone arm keeps the position which you select. The included screw-on clamp (adjustable up to 55 mm) or the additional available table flange (23855) offer a multi-purpose use. A 5 m microphone cable (3-pole XLR connection) is included. Comes with table clamp but uses 23855
Table flange for more permanent installations.
Colour: Black
Arm length: 460 mm + 500 mm
Max Load capacity:0.8kg
5m Microphone cable (3pole XLR connection)