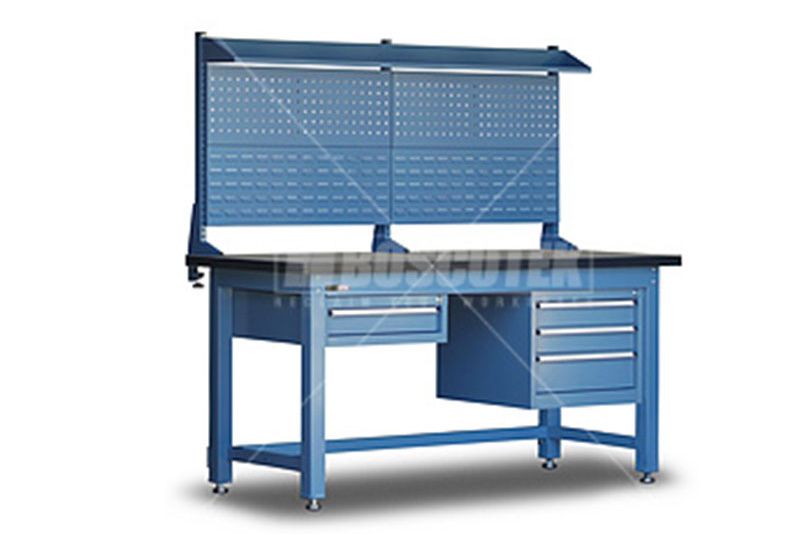 Heavy Duty Workbenches
Heavy Duty Workbenches
The Boscotek range of Heavy-Duty Workbenches provide extra load capacity, multi-functional design and flexible workflow for a range of commercial and industrial applications. Available in 3 widths and several configurations, Heavy Duty Workbenches can be assembled to meet the specific requirements of individual work environments.
900H x 1500W x 750D Workbench
900H x 1800W x 750D Workbench
900H x 2100W x 750D Workbench
With a 30mm compressed timber laminated top, thick tubular legs and heavy duty levelling feet, these workbenches have the capacity to hold an impressive static UDL distributed load of 1 Tonne on the bench top and 50kg from the optional under shelf.
The storage of tools and hardware are easily catered for with 1, 2, 3 and 5 under bench drawers with dividers, fixed shelves, adjustable shelves, louvre panels, pegboards and tool hooks. Many custom workbench combinations can be configured through the large variety of accessories and widths. These heavy duty workbenches are suited to the most demanding industrial applications.
Workbench Thick Tubular Frame
The welded frame assembly is constructed from tubular steel and is powder-coated in Wedgwood blue as standard. Workbench is delivered flat-packed (unless otherwise stated).
Workbench Heavy Duty Large Levelling Feet
The heavy duty levelling feet are extremely strong, consisting of a 60mm footprint for maximum load capacity and anti-vibration. Soled with a dense rubber compound and allowing for 45mm of extra height adjustment, these levelling feet are supplied as standard for each workbench leg.
Workbench Rear Brace Support
The tubular steel rear brace support gives lateral rigidity to the heavy duty workbench. The brace can be mounted towards the front, middle or rear. Additional brace supports are available to support the workbench under-shelf.
Laminated Timber Bench-Top
The workbench worktop is arguably the most important feature of any workbench. The heavy duty workbench comes with a solid 30mm thick laminated compressed timber top with black polymer edging. These durable and strong bench tops resist surface acid, alkali and oil. For applications including water please consult your sales representative.
1 Tonne Static Distributed Load Capacity
The ideal combination of an thick tubular frame, 30mm bench top and heavy duty levelling feet have resulted in an extremely strong workbench rated with a static distributed load capacity of 1 tonne. These Workbenches aare suitable for the most demanding industrial applications.
Size Options
Available in 3 widths. 1500mm, 1800mm and 2100mm wide. See the configurations page for more information.
Accessories
The heavy duty workbench is available with a range accessories including louver panels, double above shelves, adjustable shelves, under bench shelves, tool hooks and 1, 2, 3, 4, 5 drawer and cupboard configuration options with a standard set of partitions and dividers within each drawer.
Contact us for up to date pricing