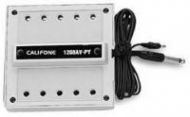 Califone Junction Box for Headphones
The key to listening centers is the jack box, the distribution point to the headphones.
Califone gives more attention to this stereo jack box with silver-plated contact points for a solid connection and moisture resistance, individual volume controls, rugged ABS plastic housing for durability
Strain-relief connectors assures they won't be pulled out, even in the roughest school conditions
Permanently attached cord with 1/4" and 3.5mm plugs attach to all media players
Individual volume control for personalized preferences
Rubber feet so unit will not "walk" or scratch desktop
Predrilled holes for permanent mounting
3.5mm or 6.3mm sockets
Mono Jack box (1218AVPY) 8 Outlets
Suitable to be used with Mono (2924AVP) Califone Headphones.
Stereo 6.5mm Jack box (1210AVPS) 10 Outlets
Suitable to be used with Stereo (2924AVPS) Califone Headphones
Stereo 3.5mm Jack Box (JB310) 10 Oulets
Suitable for use with the Califone CA2 or 2800YL.