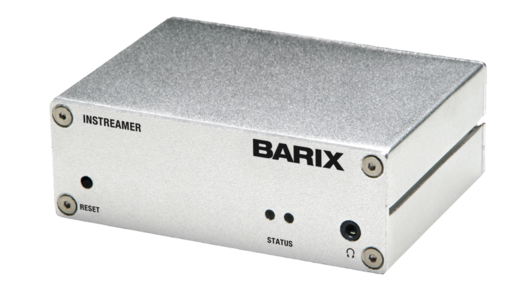 Barix Instreamer
Want to broadcast throughout NZ and around the world?
Want to add another dimension to your radio station? Want to broadcast throughout NZ and around the world? Are you in an area with poor reception and yet still want the students to benefit from having a school radio station?
Start streaming…you can broadcast nationally and globally enabling schools in poor reception areas to benefit from a school radio station too. A small device called a Barix Instreamer will do this for you. You can stream the radio station around the school and the world by plugging the Barix Instreamer into your LAN.
FUNCTIONALITY
The Instreamer encodes analog audio sources in real time in a configurable format (MP3, PCM, G.711, G.722) and streams via TCP, UDP, Shoutcast, Multicast RTP format to configurable destinations. Used in high quality broadcast applications, surveillance and VoIP markets alike, the Instreamer has proven its simplicity where Audio over IP encoding is required.
APPLICATIONS
Live IP Audio Encoder for Streaming Applications
Source Encoder for IP Audio Distribution Applications
Background Music and Music-on-Hold encoder for VoIP Applications
Shoutcast/Icecast Source Encoder
Low latency IP Audio Encoder for multichannel applications
Confidence Monitoring and Vox Switch for Broadcast Applications
FEATURES
G.711, G.722, PCM linear Encoding
MP3 Encoding (low Latency)
Shoutcast/Icecast Source capability
Audio Level Supervision with SNMP Trap generation
IP Streaming via TCP, UDP, RTP, Multicast
Line Level Input (Stereo)
RS-232 Serial Port
Power Supply (micro USB)

Designed in Switzerland and installed in thousands of locations, the Barix Instreamer is the device of choice for Broadcasters, Telco Providers, Entertainment venues and Surveillance projects alike.