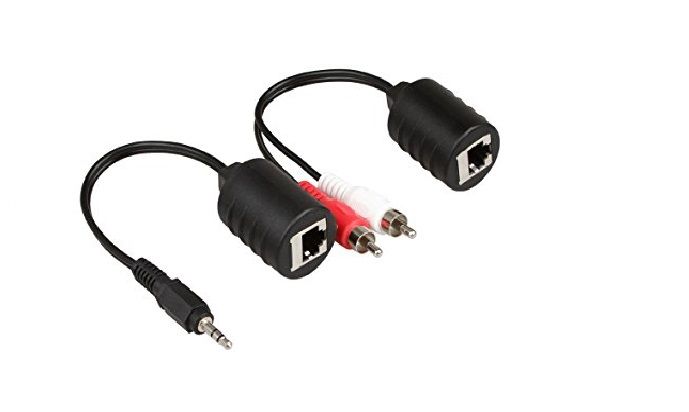 Audio Baluns Extender over Cat 5&6 -either RCA or 3.5mm
Set of 2 audio baluns – 1 receiver and 1 transmitter in either 3.5mm or RCA
This stereo audio balun allows you to transmit stereo L/R channel or mono sound up to 250 feet using a low-cost Cat5/Cat5e/Cat-6 twisted pair Ethernet cable.
Many new homes already contain structured cabling systems of inexpensive twisted pair Ethernet cable. Now you can take advantage of such existing wiring by adding this audio extender balun to each end, and transmits analog stereo audio over Cat5/Cat5e/Cat-6 wire, rather than rewiring your home in order to send these signals from room to room.
This stereo audio extender kit is used in pair. Each standard package consists of one local audio transmitter module and one remote audio receiver module, allowing users to make out-of-the-way connections from a stereo or mono audio source to a remote speaker, audio receiver, stereo amplifier for further distribution and integration.
Perfect and cost-effective solution for extending audio signal for longer distance transmission and for a nice and neat setup , which is a must for all professional installers. This audio balun fits with various applications such as:

Easy Setup

The installation of this audio extender kit is super easy. It is all just plug and play by connecting cables between audio source, local transmitter module, remote receiver module and audio receiving equipment. Absolutely no setting or configuration needed for setup.
The local transmitter connects to a standard audio source such as CD/DVD player, Hi Fi stereo, audio receiver, cable box, etc. The receiver unit should be placed at the remote location for connection with speaker, audio receiver, stereo amplifier and so on. The transmitter and receiver units can then be linked using standard Cat5e or Cat6 cable so the installation is all done.