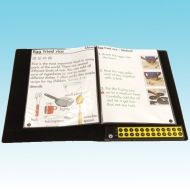 A3 Talking Album
Records up to 10 seconds per page
Combine literacy and ICT with this Talking Photo Album. It supports speaking and listening on the new literacy framework especially focusing on photo sequences, presentations, hiding and revealing pictures and word recognition.

Record your stories, timetables or messages with our Talking Photo Album.

Simply insert drawings or photographs into the plastic wallets and record up to a 10 second message on every page to support the image / text. Drawings or photographs can be changed as often as required and your 10 second messages can be re-recorded when needed.

Each individual voice message can be played back at any time, simply with a push of a button.