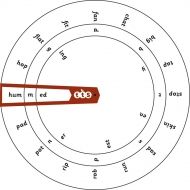 Prefix and Suffix Spinners
ONLY 2 OF EACH AVAILABLE
Address the spelling rules, choices and quirks which pupils are faced with once they have ''cracked the phonic code'' for reading purposes.
The Prefix Spinners allow pupils to experiment with a variety of commonly used prefixes which alter the meaning of a word, and the Suffix Spinners aid the teaching of common suffixing conventions.
These spinners are multi-sensory and fun to use, let the children spin away and create new words! Both can be used with individuals, groups or even a whole class and will inspire children to explore and extend their general knowledge and vocabulary as well as improve their spelling skills.