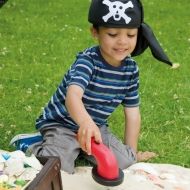 Easi-Detector Metal Detectors - Set of Four
Get busy exploring with this super new set of 4 rechargeable metal detectors in 4 bright colours.
Investigate what lies beneath the soil, sand, paper etc.

Will it be gold, silver, bronze or other metal? These innovative detectors are simple to use; sweep them over objects and areas and hear the beep as they detect the metal.

Great for outdoor exploration and learning about different materials. Learn about materials and their properties differentiating from one another. Great for exploration or discovering where the pirates stashed their hoard!

Locate metal objects with ease
Use indoors and out - take on investigative outdoor walks
Super for science and exciting ICT
Support learning through play
No need for batteries as there's a hub to charge them. Battery life approx 8 hours in normal use. Fully charged in approx 3 hours. Detectors use little charge if left on when not detecting metal. There's even and LED to indicate charge status.

Detection range approx 40mm for 25mm diameter coin. Metal detector 20 x 8 cm. 4 detectors in set.

Unsuitable for under 3yrs unless under adult supervision.